Polypropylenové lesklé
White polypropylene labels
10 items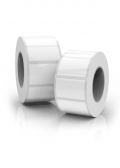 They guarantee optimal print results. They guarantee fast ink drying and excellent adhesion to various surfaces.
They are suitable for outdoor use, ideal for printing color labels with images, logos and barcodes. Suitable for logistics, chemical industry and food processing.
No product matches current filter.
There are no products in this category.