TTR, tonery a cartridge
__________________________________________________________________________________________________________________________________________
__________________________________________________________________________________________________________________________________________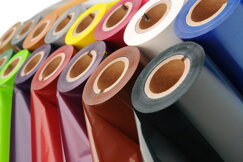 TTRs are the basic consumables for thermo-transfer printers and are used to print self-adhesive labels, labels, logos, labels and packaging materials on TT printers. TTRs are an integral part of TT printing and their overall quality and suitability depends on the overall application result. The principle of thermo-transfer printing is to release the coloring layer of the TTR film, which may contain a different ratio of wax and resin. By applying heat and pressure, a pigment on the label or other substrate is transferred from the carrier to produce the pre-specified one-color printing of the desired data (text, barcode, logo ...).
No product matches current filter.
There are no products in this category.