Křídové s vysokým leskem
White glossy labels
18 items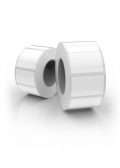 Thanks to the special coating on the front, the ink is bright and the ink dries quickly. It has a very good scratch and water resistance.
Self-adhesive paper has excellent adhesion to cartons, metals and plastics. They are the ideal solution for creating labels in great detail such as food labels with logos and color images, composition, barcodes and where quality and labels are a priority.
No product matches current filter.
There are no products in this category.